Turning 30 is a great time in many people's lives. It's also the stage at which many people start to want a little bit more from their parties than they did in their 20s. "Let's all just get drunk!" doesn't necessarily cut it as a plan for a 30th birthday party!
It's time for something more memorable, an experience your guests will still be talking about for months afterwards. And if you want your 30th to be one of the best parties your guests will ever go to, then it's hard to go past a fun casino. Great memories and rave reviews are guaranteed.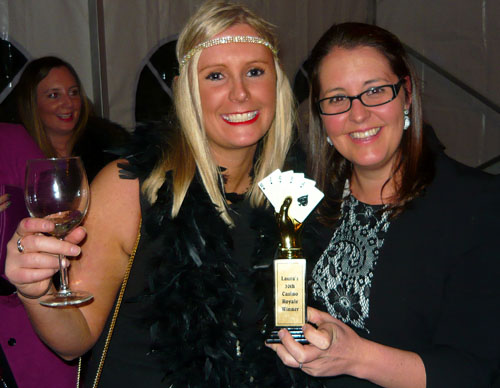 We know what you're thinking – guaranteed? Really? Is this just something you say because most people only have one 30th birthday party?
The answer is yes – really! A fun casino is the perfect entertainment for groups of all sizes, ages and backgrounds. And it's all about two things: the games, and the people we have running them for you.
Blackjack, roulette and poker are all great options for 30th birthday party entertainment. Because they're some of the world's most popular games, many people will already know how to play. Also, they're easy for first-time players to learn on the night. And they've stood the test of time. People have been coming back to play them in casinos for hundreds of years for a reason! For variety you can also consider games like big wheel which are heaps of fun.
So it's a proven winning concept, and we only use the best staff to run the tables at your party. They're all fun, friendly, and experts in setting a mood that will have the room buzzing.
"We recently hired Blackjack knights for my husband's 30th birthday… they were very easy to deal with & very helpful in helping choose what we needed for the night. Everyone who attended the party mentioned how much fun they had and how professional the guys were. I wouldn't hesitate hiring them again."


Tammy, 30th birthday, Feb 2017
Flexible 30th birthday party entertainment that's easy to organise
We appreciate that organising a party can take up a lot of time. It's why we've made booking a fun casino for your 30th birthday party as easy as possible. Give us a few basic details about your party and we'll supply you with a comprehensive quote. Choose a package and you're good to go! A couple of emails are all it takes to get everything set up. We'll do everything from customise the fun money for you, organise the trophy, even liaise direct with the venue about setup. It's all about making life easy for you in the lead up.
On the night our friendly, expert staff will take care of running the casino for you too – everything from setting the tables up to teaching your guests how to play the games. So you're free to relax, grab a drink and enjoy the night for yourself!