The big four-o is a time for celebration! Whether it's an intimate celebration at home, or a big night out at a venue, choosing the perfect entertainment option will make your 40th birthday party one that people will be talking about for years to come.
When you imagine your perfect 40th birthday party, what comes to mind? What's the mood, the feeling in the room? Is there a buzz in the air? What can you hear – excitement and laughter? If that's what you're looking for, then a fun casino party guarantees you'll get it.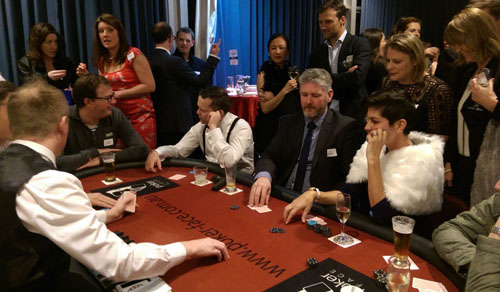 When it comes to entertainment, games like blackjack, roulette and poker are classics for a reason. Their broad appeal has stood the test of time. And when they're played just for fun money at your own casino, they become perfect entertainment for your 40th birthday party.
Chances are you're going to have mixture of friends, family and workmates – maybe even a few kids or teenagers too! Some of them might be meeting for the first time. There's nothing like playing together across a casino table to get people past the "So how to you know…" stage. In no time they'll be celebrating their wins together, commiserating their 'losses' and engaging in a bit of friendly competition over the winner's trophy!
"I used Blackjack Nights for my 40th at home. Couldn't be any happier with their entertainment! The croupiers were great and entertained all the guests and went above and beyond."


Jamie, 40th birthday, Oct 2016
Classy, structured entertainment with plenty of flexibility
Blackjack Nights casino tables will make your 40th birthday party look a million bucks. We use full size casino tables, many of which have come direct from the floor of real Australian casinos such as Crown and The Star. They're the real deal – no cheap import tables or flimsy trestles!
Our staff are the real deal too, and they look the part in classy black-tie uniforms. They're also very friendly, and experienced at teaching the games to new players. With our croupiers at your 40th birthday party, everyone will be joining in and having fun in no time!
The tournament format of our events leaves plenty of scope for everyone to socialise while they're playing and between games. It's also very flexible, meaning we can easily work in breaks for speeches and cake, or work alongside other entertainment such as bands or DJs. You can also get some more inspiration on great party ideas here.
Contact us today to get the planning for your party underway – it's even easier than you think! We'll take care of all the details, beforehand and on the night, leaving you free to have a good time.