For a night to remember, turn your next event into a casino theme party!
Events come in all shapes and sizes: birthday parties, corporate events, fundraisers, weddings and more. You can have them at home, or out at a venue. You could be inviting a few dozen people, or a few hundred or more. Every event is different! But every great event also has something in common: some kind of "wow factor" that made the night fun and memorable for everyone. And for a guaranteed wow factor, it's very hard to go past a Casino Theme Party.
Take a moment to picture your ideal party. When it comes to entertainment, you want something that will capture people's imaginations, get them excited and get the room buzzing! But it needs to be something that will appeal to everyone. Will everyone want to dance? Photo booths are fun, but will it generate a buzz all night long? What's going to make your guests say "wow" and make yours an all-time great Casino Theme Party to remember?
Here's one thing we guarantee: a Casino Theme Party is an amazing fun night, with a built-in "wow factor" that everyone will enjoy and remember!
"AMAZING!!! You provided the best entertainment for my guests all night. The croupiers were delightful toward both inexperienced and experienced players. Without them my 40th b'day would not be the memorable night that it was. Thank you SO much."

Leah, themed casino party, May 2016
Providing the perfect casino theme party for your event
Going with a Casino Theme Party for your event is perfect for a whole range of reasons.
First, it's got a great broad appeal . Everyone can get involved in a fun casino – young, old, male, female, all ages and backgrounds. Your guests don't even need to have played the games before because they're so easy to learn on the Casino Theme Party night. And because everyone only plays with fun money, everyone's a winner! Nobody will go broke (which is, let's face it, the biggest problem with going to a real casino).
Second there's the built-in "wow factor". People see DJs, photo booths, even live bands at parties all the time. Picture their reactions when they walk into the room and see full-size, high-roller casino tables waiting for them though! They'll know instantly that your party is something different, something special, and that they're in for a Casino Theme Party night to remember.
Third, a casino theme party can be scaled up and down to be a perfect match for events of all shapes and sizes. Less tables and games for a small group, more for a big group. It can be the main focus of your whole Casino Theme Party, or just part of an entertainment smorgasbord.
Fourth, there's a whole range of themes and ideas you can play with for a fun Casino Theme Party. It can be refined and elegant, it can be loud and raucous, it can be anything in between.
So a Casino Theme Party lends itself to a whole range of themes within the theme, some of which we'll talk about in the following sections.
Viva Las Vegas Theme Party

What happens in Vegas stays in Vegas – or at your Vegas themed party! A Blackjack Nights Vegas party theme will transport your guests directly to the glitz and glamour of Nevada's most famous city. It's not known as one of the party capitals of the world for nothing!
What's great about a Vegas themed party is it can be as classy or as casual as you want it to be. It can be suits and evening gowns, or it can be Hawaiian shirts and dark glasses. Or you can let your guests decide for themselves! The flexibility doesn't end with the dress code either: Vegas can work with everything from your venue and decor to the music you choose.
And, of course, it wouldn't be Vegas without the casinos! They're a huge part of the Las Vegas experience, and a must-have at your party. The best bit, though, is knowing that your guests will be walking away from the tables at the end of the night with smiles and great memories, not empty wallets! Our genuine casino tables will make your guests feel like real high rollers, and our staff will treat them like it.
Complement the tables with our Las Vegas themed accessories such as signs, backdrops and red carpets and you'll have a night to remember on your hands. Learn more about our Las Vegas themed parties or contact us today for a free quote on one of the most memorable parties you'll ever throw!
Casino Royale – James Bond 007 Night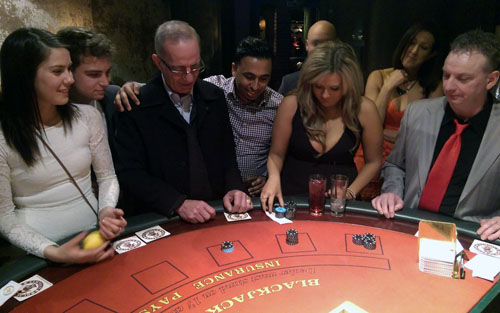 Maybe you've got something different in mind though – perhaps something more formal, with everyone dressed to impress, but still with a fun twist? Then there's another theme that's a perfect match: the Casino Royale themed party.
James Bond is a fantastic theme because the character is so well known and loved. Think about it, pretty much everyone has an opinion on who the "best" Bond is! The movies have been wildly popular for more than 50 years, and they instantly set a tone for your party.
Of course when most people think of Bond, they think style and class. Black tie is often the dress code, or at least suits and ties. 007 doesn't really do smart casual! So if everyone's dressed in their finest when you picture your event, Casino Royale is a great fit. It's also what makes it perfect for corporate events as well as birthdays and fundraisers.
Casino tables and more
Casino tables are, of course, an ideal match for the theme. Mr Bond has spent plenty of time gambling for high stakes over the years, so give your guests the chance to do the same – even if it's only for fun money!
Casino Royale gives you a whole lot of options for theming, decorations and additional too. Maybe you want to project some of the movies somewhere in the room? Red carpets and the like are a great match. Casino Royale signs, silhouettes and backdrops are perfect for setting the tone, taking photos and striking poses with. If you really want to go all out, you can get a "James Bond" actor (or one of the villains!) to meet and great your guests. We've even seen people bring in Aston Martin cars for the night. And of course we can help you with things like themed invitations and fun money.
If we can offer once piece of advice, though, it's to think about the music. While there's been a lot of Bond films over the years, there haven't been enough that you can just play Bond theme tunes for the whole night without them repeating! Also while there have been some great Bond theme tunes, there's been quite a few that aren't what you'd call party anthems. Skyfall, we're looking at you here. Absolutely use some for effect, just remember to put other songs on the playlist too!
Find out more about hosting a Casino Royale theme party, or contact us today for your free quote. Your move, Mr Bond!
Gangsters and Flappers Party (Prohibition 1920-1930 era)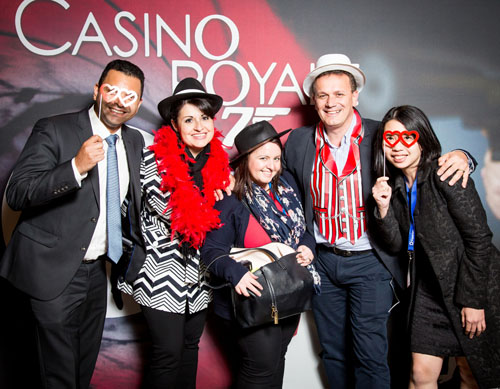 Here's another twist you can take for a classy, "dressed up with a difference" event. A 1920s themed party is one with a fun edge that can get all your guests involved and in the mood!
It's a theme that's been getting a lot of attention in pop culture in recent years, with a whole range of movies and TV series using it for inspiration. And one of the things the era is best known for is amazing parties! You can go full Great Gatsby and throw the most opulent party imaginable, or you can go speakeasy for a more underground vibe.
Whatever direction you choose to go, there's a few things that really tie a 1920s party together. Obviously there's the dress code – suits, pinstripes, hats, feathers, it's a theme your guests can have a lot of fun with! There's also the great music.
Double down on the theme with a fun casino
Of course if you're going 1920s, then giving your guests their own underground casino is a must too! Games like roulette and blackjack were hugely popular at the time, even if they weren't legal. Craps and poker were staples too. Having fun casino tables at your 1920s party gives you great, interactive entertainment for your guests. It creates a real memorable "wow factor". It even opens up other entertainment opportunities – one party we worked had a fake "police raid" for example!
Like Vegas, a 1920s party give you a whole range of "themes within the theme". A popular casino party hire theme is the Gangsters and Flappers party. You can open your own speakeasy for the night. There's Great Gatsby, fancy balls, prohibition, flappers and more. There's nothing quite like reliving the Roaring 20s (especially if you're not old enough to remember it!) than with a fun casino theme.
Contact us today for a free quote or for party planning advice, even on costume supply and fancy dress for your gangsters and molls. And click here for more info on our 1920s gangster theme parties.
Dust off your hats, two-toned shoes and flapper outfits – you supply the costumes and we'll supply the entertainment.
All-time great parties are easy with Blackjack Nights!
Hopefully we've given you some ideas above that will make your next party one of the all-time greats – one your guests will be raving about for months afterwards!
Now you might be thinking "This all sounds great, but it sounds like a lot of hard work too!" Here's the best news – when it comes to the entertainment, the thing that'll really make the difference and impress all your guests, booking a fun casino with Blackjack Nights couldn't be easier.
All it takes is a few emails or phone calls. We take care of all the details for you, both in the leadup and on the night. So it's less stress for you beforehand, and you'll get to actually enjoy the event yourself on the night too! Plus we're always here to answer any questions you have, and help with any other aspect of your party. Anything from invitations to finding the perfect venue.
So please, contact us today for your free quote – we're ready to help you put on the best party ever!
Summary
Service Type
Provider Name
Blackjack Nights
,
Melbourne
,
victoria
-
3000
,
Telephone No.1300 224 780
Area
Description
For a night to remember, turn your next event into a casino theme party! when it comes to the entertainment, the thing that'll really make the difference and impress all your guests, booking a fun casino with Blackjack Nights couldn't be easier.