Casinos, bright lights, slot machines, showgirls, Elvis, the World Series of Poker… whatever you associate with Las Vegas, partying and good times are a common theme! So why not embrace the Las Vegas theme at your next party? It's sure to make it a night you and your guests will never forget!
Give your guests a taste of Viva Las Vegas With Las Vegas Theme Party
The great thing about a Vegas party is that it gives your guests all sorts of options to dress the part – after all, Vegas means all sorts of things to different people! To some people it's Hawaiian shirts, dark glasses and big drinks. To others it's Elvis in a jumpsuit, or Hunter S Thompson, or Penn and Teller. Some people think of modern classics like The Hangover or Oceans Eleven. Everyone is free to indulge whatever Vegas means to them at a Las Vegas themed party.
"Thank-you so much for helping to make our Vegas Engagement Party a roaring success! The team were professional right from the initial quote. Their communication was excellent, they turned up on time on the night and encouraged all guests to get involved. Would definitely recommend them for any function."

Gemma, Vegas engagement party, May 2016
It wouldn't be Vegas without the casinos!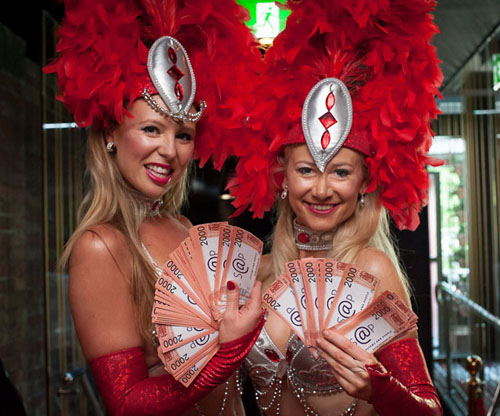 Casino games are, of course, a huge party of the Las Vegas experience. They're the glue that binds the whole thing together. And when you get the casino tables for your party from Blackjack Nights, you know that your guests will be walking away from the tables at the end of the night with great memories, not empty wallets!
Roulette, poker, blackjack and the big wheel are all hugely popular in Vegas, and they're available for guests to play at your party too. Between our full size tables with genuine accessories and our fun, friendly staff your guests will be feeling like Vegas high rollers in no time.
Deck your venue out in the Las Vegas theme

Image of our Vegas sign Our Las Vegas sign We also have a full range of Las Vegas theme packages to really make your Vegas party pop – red carpet entrances, bollards and red ropes, backdrops and signs are all options we can provide. In addition, we can design and print Vegas-themed invites to your party. We'll even provide Las Vegas themed fun money on the night.
Put it all together and your guests will be transported for the night. There'll be laughs, cheering, a joyful buzz in the air and, of course, lots of friendly competition at the tables! So if you want to throw one of the all-time great parties, go with a Las Vegas theme party. Contact us today for your free quote.