If you're looking for entertainment at your event that's a sure-fire winner, something that's guaranteed to get that "best party ever" buzz going, then a Blackjack Nights fun casino is absolutely your best bet.
Why is that though? How does it work? And what makes Blackjack Nights in particular the company you want to pick? Read on, and we'll answer all those questions and more!
Amazing entertainment that EVERYONE will love
Let's start with the broad appeal of casino games. Games like blackjack and roulette have been popular the world over for literally hundreds of years. They're super-easy to learn and play, and a heap of fun to boot. And when you play them at a fun casino, you don't even need to worry about losing real money!
So when we say they're great entertainment that EVERYONE will love, we really do mean everyone. Young, old, male, female, casino regulars and first time players alike. We've had well over 100,000 people attend our events over the years and every time, people have a ball.
"We have used Blackjack Knights 3 times and they have all been fantastic. Thanks for a great evening once again!"

Elise, corporate and private events
HOW you do it matters though!
Before we get ahead of ourselves though, we're not saying you can just stick a couple of casino tables in a room and expect good times to happen magically. HOW you do it (and who does it) matters a lot.
Having good equipment is important, for example (more on that later). Having good people operating that equipment, and working actively to entertain your guests, is even more important. But above all else, we've found what you really need is a plan and a format that guarantees everyone gets involved and has a great time.
The fun casino tournaments deliver excitement
Our solution is the fun casino tournament. Every one of your guests will receive a fun money note when they come in the door (customised with an images and/or messages of your choice!), which they can "spend" at the tables.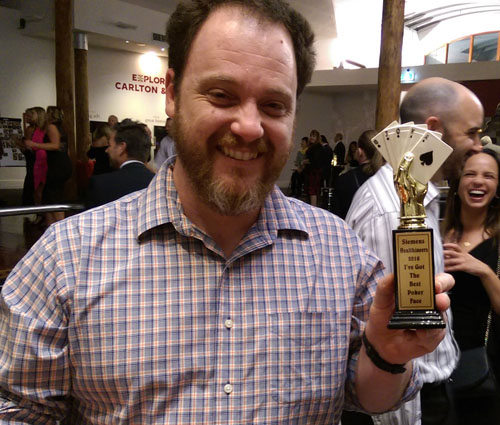 We keep each game relatively short: seven hands or seven spins (so most games take about 10-15 minutes). Players have that long to make as much money as they can. At the end of each game, the dealers count up their chips and record the best scores. The biggest winners go on a leader board, and come back at the conclusion of the night to play off in a Grand Final game for the trophy!
Here's the best bit: at the end of every game, win lose or draw, your guests get their fun money note back. They can play as many times as they like – they will not go broke in your casino! If they "lose" in one game it doesn't matter, they can start fresh next time! Here's some other ways this helps create an amazing buzz at your party:
Fun and friendly competition are built in. Your guests will have a great time trying to one-up each other and make it into the grand final.
Nobody has to wait long for a game. There's always a new one starting soon.
It gives the party room to "breathe". There's plenty of opportunities for people to mingle, eat, drink, chat or dance in between games.
Everyone's in with a chance to win all night.
And this one bears repeating: nobody will go broke!
Fun, friendly and experienced staff make all the difference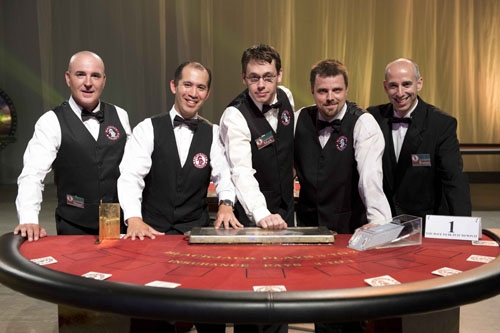 A really good croupier makes their job look effortless. What they're actually doing is pretty difficult though. Even just pulling cards out of a blackjack shoe takes practice to do smoothly, let alone getting a roulette ball to spin! And that's before we even get to pitching poker cards, or quickly calculating a 47:1 payout on a $700 bet!
The best casino staff practice for years to become experts at their games. And that's before you ask them to carry on a conversation while they're working, share a joke with your guests or show them how to play. What we're saying is it's not a job you want just anyone doing!
That's why we go out of our way to make sure the staff who'll work at your event can do it all. Experts at their games but also super-friendly, lots of fun, and experienced at building excitement and a fantastic buzz at your party.
Don't take our word for it though: have a look at our testimonials page, or our reviews on Facebook and our third-party reviews archive. Notice how many of them mention the staff who worked the events on the night? We're not ones to brag, but we're really proud of our staff for the amazing work they put in at every single event.
Great tables bring the "wow factor"
Like we said earlier, having great equipment is important to setting the mood at your party. You want your guests to be buzzing and excited for what you have in store for. And there's nothing like seeing full-size, high roller casino tables when they walk in the door to get that reaction!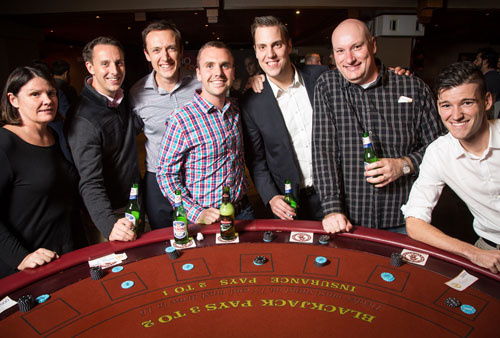 That's why we don't compromise on quality when it comes to the tables and equipment at your party. Check out the pictures on this page or in our gallery and you'll see our tables direct from the floor of Crown and The Star. They don't just look a million bucks – they've probably had that much and more cross their felts of their life. If these tables could talk…
Of course, tables like this aren't easy to come by. They're also big and heavy, and they weren't cheap to buy and refurbish. We've gone the extra mile to get them because we want you and your guests to have the best possible experience – and because it really does make a difference to the atmosphere of your party.
It all adds up to a GUARANTEED great times!
You might have seen us mention by now that we offer a 100% money back guarantee on all of our events. It's the combination of everything we've talked about above that allows us to make you that guarantee. Everything comes together to make it happen, including:
Our tournament format
Our amazing staff
Our great equipment
Our attention to detail
Our 13+ years and 3,500+ events worth of experience
And, of course, our absolute commitment to making sure every customer has the best party possible
It's smart for you to shop around for your event. Price is always going to be an important factor, and we probably won't be the cheapest quote you'll get. Nor do we necessarily aim to be: instead we look to provide you with amazing value at a competitive price.
At the end of the day, we're confident of two things:
1. You and your guests will have the time of your lives at a Blackjack Nights fun casino, guaranteed
2. You won't find another company who can match us in all the areas we've discussed above.