A 21st birthday party is a huge occasion, and something that should be celebrated in style!
A 21st casino themed birthday party everyone can enjoy!
Fun casinos are a perfect focus point for 21st birthday party. The tables bring everyone together: friends, family, workmates and everyone else will mix and get to know each other while playing the games.
At a 21st birthday party, chances are quite a lot of the crowd won't have spent much time in a real casino. That won't stop them enjoying the fun casino tables though: our staff will quickly teach them how to play the games. A great time is guaranteed for everyone! You can scale the number of tables up or down depending on the size of your guest list. It's entertainment that's a perfect fit for groups of all sizes and backgrounds!
"We had a fantastic night for James's 21st birthday celebration. The guys were fantastic, friendly and provided a fun night. Everybody who came said they were so impressed and enjoyed themselves. The guys did not stop the whole time as the tables were full all night."


Julia, 21st birthday, Apr 2016
Hassle-free entertainment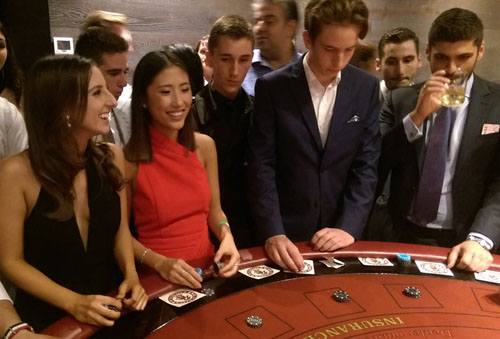 Our expert event managers help you plan the whole casino. From booking through to setup and running the tables on the night, it'll all be taken care of. All you need to do is get the guests in the room, because our staff take care of the rest!.
A fun casino works perfectly alongside DJs, bands or dance floors if you've got those planned for the night too. Also with our tournament-style events, the fun casino is also a very flexible entertainment option. Each game goes for a short time, but your guests can play as many times as they like. Nobody will go broke in your fun casino!
And with the short games, it's no problem to schedule in breaks for all the 21st birthday party formalities. Speeches, cake and presentations will all fit in seamlessly.
Maybe you're going with a theme, such as Vegas, Casino Royale or 1920s. Or maybe you're just asking your guests to come as they are and have a great time. Either way a fun casino is a great entertainment option for your 21st birthday party.